The Out There Machine
Take big tire clearance, combine it with all-road geometry and finish it off with a smart and premium component spec. The result is the Grimes Carbon. A bike built to get you out there.
A bike for all roads, paved or not. The Carbon Grimes is a gravel bike that is both comfortable and incredibly high performance. With the Grimes Carbon, you can join a local group ride on the road or wander through car-less trails in a state park. The world is yours! Road Bike Action said the ride leaves you feeling more relaxed further into rough rides than more race-oriented gravel bikes. Get the ride for yourself!
---
The Grimes can conquer the growing scene of all-road riding.

For anyone that has to ride pavement to get to gravel or for those who are looking for one bike to do it all, this gives the Grimes an advantage over dedicated gravel rigs.

The key takeaway here was that we felt more relaxed further into rough rides than we did on more race-oriented gravel bikes.

Road Bike Action, June 2020
---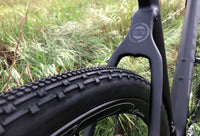 Big tires, even bigger good times!
The name of the game is clearance and ride feel. With it's 50/50 capability, you can easily run up to a 700 x 45c tire on a modern wide wheel for maximum dirtage - is that even a word? Or run a set of 700 x 28c slicks for those fast days on the road. And with the clearance built in, you can always go 650b x 2.1" for those low PSI dirt days were you want even more volume. The choice is yours.
Business up front, party in the back!
One of the beautiful benefits of the innovation around gravel is that it's getting more simple to have a good time. What could be better than having one less derailleur? With our 1x Mullet builds you'll have a massive range of gears without the extra maintenance up front. Sail up steep climbs, lead out your local group road ride and never think about big ring/small ring ever again!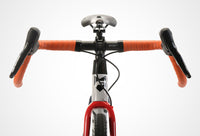 Ric Flare
The growth of gravel riding has brought a range of gravel specific components. Gravel gearing, gravel tires and gravel bars.
If you're venturing into the dirt, a set of flared out drop bars is a must. The wider platform gives you more control when descending in the dirt. The shorter bar reach provides a more comfortable all-road fit.
what customers are saying
I really enjoyed the entire process, from the intro call to the arrival of my bike. It's inherently a leap of faith to order a bike you've never sat on - particularly for folks who really care about their bikes - but I can't think of another company that would devote such time and resources to getting the fit and build exactly right. By the end of the process, I was 100% confident that I was getting a near-custom bike that would be perfect for me. Now with a few hundred miles under my belt, I can say that it's exactly what I wanted - a super versatile ride that I turn to again and again (sadly leaving my road bike on the trainer). And it's a hell of a value proposition.

Robert M.
Franco Bikes built me two amazing bikes this year, a Kanan road bike and a Grimes gravel bike. Working with guys who actually ride and have a passion for cycling was a great experience. It started with a conversation as to what I wanted in a bike. I could tell their passion for quality and the pursuit of excellence is what drives them. This is something I embraced, they empowered me to drive the design instead of directing me of what I should do in the design. Not only did I get two amazing custom bikes, I also built a good cycling relationship with some good guys.

Chris R.
The Grimes has been great! So far it's been on 5 rides for 170 miles with a few rides thrown in on the Balcom S so it doesn't feel abandoned. The gravel rides have all been close to 50/50 pavement/dirt, which seems to be a nice mix. I really like the 24 degree flare on the bars. They open up my chest better than normal bars when on the drops, making it easier to breathe climbing into the wind.

Tom F.
My Grimes has quickly become my favorite bicycle that I own. The fit feels perfect, and the entire purchasing experience was thoroughly enjoyable. From the look of the frame to the way that it feels while riding, I am impressed all over again every time I ride it. I have already recommended this bike to every friend who is even remotely interested in a drop bar bike for off and on pavement riding.

Harris D.
I wanted to let you know the fit is right on and everything is great! What a fabulous job you all did. Thanks again!

Blair C.
Everything about the bike is fantastic, including the shifting. I'll be trying the second set of wheels on the trail today!

Jordan S.
What. A. Gorgeous. Ride. The look and the handling.

Christian S.
I'm loving the new bike on the road so far and I'm getting a ton of compliments about how it looks as well ;) I transition seamlessly between my OG Grimes and the new Grimes without noticing any riding position changes, so you guys definitely nailed the set-up. I haven't had a chance to throw the 650b rims on it yet and test it out on a proper gravel ride but maybe next week.

Clint C.
Geometry & Sizing
| | | | | | |
| --- | --- | --- | --- | --- | --- |
| Size | X-Small | Small | Medium | Large | X-Large |
| Stack | 526 | 540 | 560 | 596 | 624 |
| Reach | 369 | 375 | 378 | 387 | 398 |
| Top Tube (effective) | 520 | 535 | 550 | 575 | 595 |
| BB Drop | 70 | 70 | 70 | 70 | 70 |
| Chainstay | 425 | 425 | 425 | 425 | 425 |
| Front Center | 592 | 594 | 599 | 614 | 634 |
| Wheelbase | 1007 | 1009 | 1014 | 1030 | 1050 |
| Head Tube | 110 | 120 | 140 | 175 | 205 |
| Head Tube Angle | 70 | 71 | 71.5 | 72 | 72 |
| Rake | 50 | 50 | 50 | 50 | 50 |
| Trail (700 x 38c) | 75 | 69 | 65 | 62 | 62 |
| Trail (700 x 28c or 650b x 47c) | 72 | 65 | 62 | 59 | 59 |
| Seat Tube (c-to-c) | 440 | 480 | 500 | 550 | 580 |
| Seat Tube Angle | 74 | 73.5 | 73 | 72.5 | 72.5 |
| Standover (700 x 38c) | 759 | 785 | 804 | 845 | 873 |
| General Sizing | 5'1" to 5'6" | 5'6" to 5'9" | 5'9" to 6' | 6' to 6'2" | 6'2" + |
Not seeing what you need?
If you're not liking any of the builds you see above, shoot us a note about your dream build and we'll do our best to make that dream a reality.
Give us a Shout!